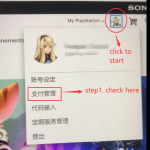 As many oversea gamers want to play the games under china Playstation, but they don't know how to top up for china PSN account eWallet.
First of all, you need a Mainland China PSN Account, you can try to create account by yourself or ask us to create it.
If you already have a China PSN account, visit https://www.playstation.com/zh-hans-cn/ to login your China PSN account,  please login on PC.
After logged your China PSN account on PC, then start to top up