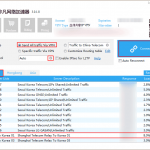 ffvpn is a Chinese VPN provider. It is providing multiple VPN plans. Such as Asia VPN, USA VPN, Chinese VPN and so on. Because some guys don't know how to use it on PC. I want to make a guidance about how to use ffvpn on PC. Buy VPN here
Official Website: https://www.ffvpn.com
Download ffvpn client from https://www.ffvpn.com/download

Install FFVPN successfully follow the install guidance step by step.
Select client language, input FFVPN username and password.

Tip "Send all traffic via VPN", select VPN protocol like PPTP, L2TP, OpenVPN or Auto, Tap VPN servers' location, click the server you want to use and tap Connect button.

Connected FFVPN on PC.

After connected successfully, check whether you have got other countries' IP address.