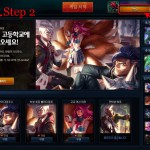 Riot Points (abbreviated: RP) are one of the two in-game currencies. They can be purchased with real money and are used to purchase in-game things to add convenience, extra customization options, or diversity to the experience. Players can buy RP to purchase champion, boosts… There are about 6 kinds of RP. It is 650RP, 1380RP, 2800RP, 5000RP and 7200RP. For LOL KR RP Teen cards, only have 1380RP, 2800RP, 5000RP and 7200RP. For LOL KR account security, some players don't want to tell other people about their LOL KR account information. So they would like to choose to top up LOL Korea RP by themselves. So we write this tutorial is aim to help those people who want to top up RP by themselves. Here, we will show you how to top up LOL KR RP Teen cards. Please take note this tutorial is only suitable for recharge by Teen card. Firstly, I think you have got LOL KR account. Secondly, purchase LOL KR Riot points card from one reliable seller. OBTGame is a reliable LOL KR RP card provider. Ahead to buy with confidence from OBT. Once ordered, you will get 12 digits code, consist of letters and numbers. If you want to top up LOL KR by yourself, why not Buy LOL KR RP Card to get started to secure your account.
1. Login LOL KR client, if there are multiple countries' LOL client, please double check. Tap cash box and 'RP 총전' as photo.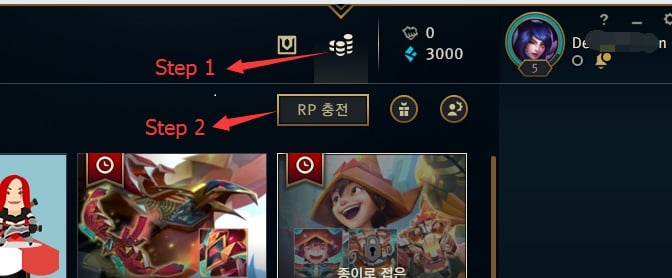 2. Pop up a window. You can choose the amount of RP card you want to recharge. Hit '상풍권류' button, then choose '

틴캐시

' or

Tin Casey

or 

Tinkaesi 

to recharge with teen card. There are 3 boxes. Input 12 digits code you got from LOL KR RP seller. Tap '금액 조회' to check amount of the RP card. It will show the amount of the card. Tick the box to agree terms and policy. Hit '결제하기' to top up RP. Hit 'OK' to confirm the rechargeable action.